Oh goodness, it's almost 3 a.m. here... I never would have thought that I would be losing sleep over producing vlogs and blogs! But, here I am doing just that. Nobody is forcing me to pump these out right away, but I know that if I let things back up that everything backs up, and then nothing gets done.
Truth be told, the vlog may feel like a rushed production. Many things just went wrong with this video this time, so my heart wasn't exactly 100% into it. So I'm aiming on making my next vlog about Death Valley better from the lessons that I learned from this one. Now, onto the blog!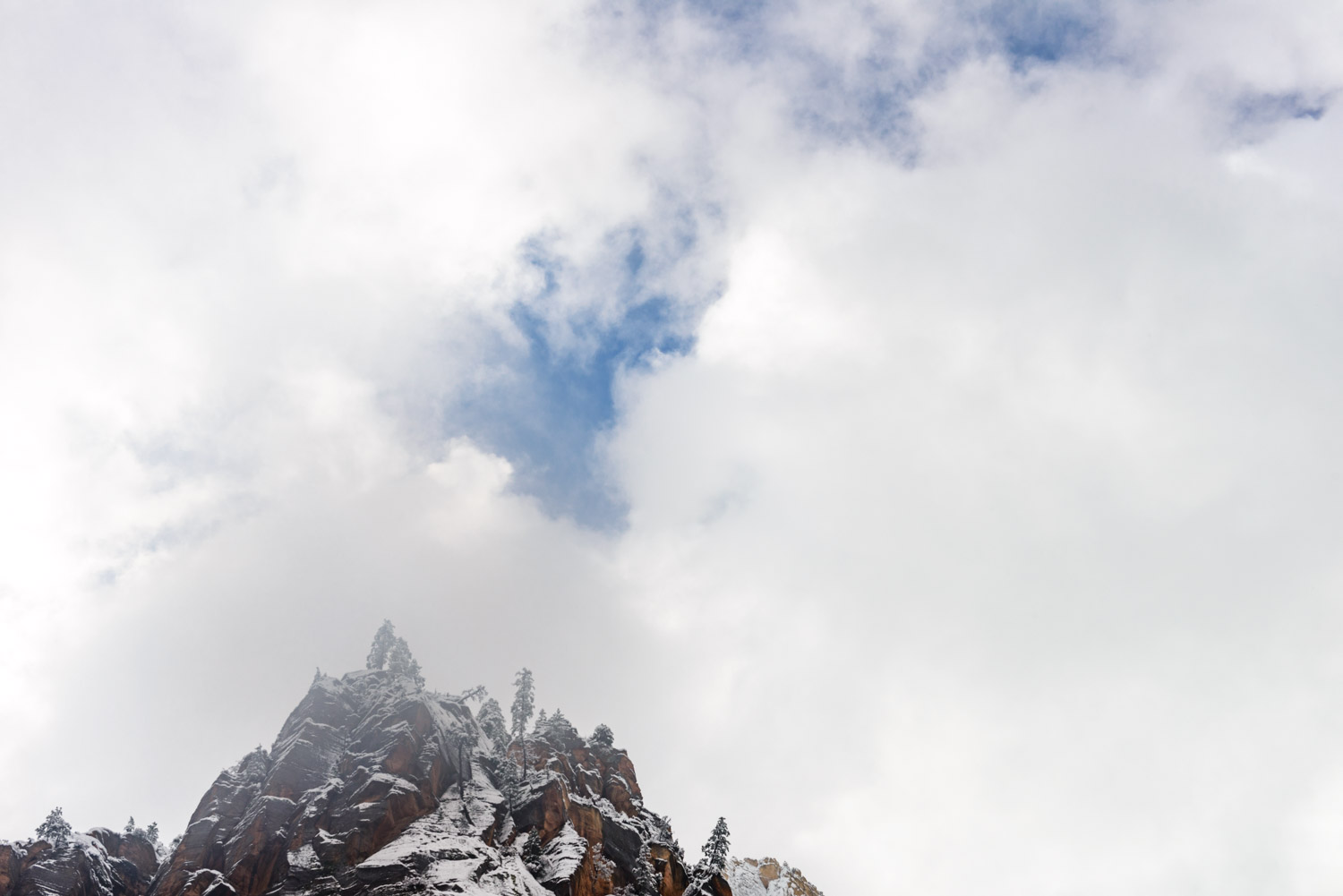 Zion National Park was my second destination of my great road trip. I have just finished camping there for three night and, boy, was it a bit wet! For all three nights that I stayed in Zion, it was raining and snowing with very few breaks. A trail worker I met said that her most senior staff said that this was the most rain and snow the park has ever gotten in their 25 years of working there. This did not make for the best camping conditions, but I still survived! Amusingly enough, despite there being snow, Zion was actually warmer than Arches!
The campground cost $20 per night which I found surprising, as I was expecting the same $25 that Arches charges. But I'm not going to complain about money saved, of course. The campground had multiple heated bathroom facilities. Better yet, the visitor center had free Wi-Fi! So I did spend a few hours catching up on the latest internet gossip.
Just like last time, I encourage watching the vlog first as I won't be covering nearly all of the same subject within this written blog.
Right off the bat I will admit that I did far less here in Zion than I did at Arches despite spending an equal amount of time. Being cold is one thing, but being cold AND wet is a totally different level. I may have not been freezing, and I was in Arches, but I certainly felt much less comfortable. Much of my time was actually spent on drying myself off...
But for those of you who are able to enjoy their time here in the park, I'll tell you a little bit of what I know. The park has three large sections. The main Zion Canyon, the Mt Carmel highway to the east, and Kolob Canyon up north. Drivers will come through Mt Carmel tunnel if they come from the direction of Bryce Canyon. It's a really nice drive, and I recommend it but, there's only one hiking trail over there though. As for Kolob Canyon, you'll just need to look at the map to see how to access it. I've never been there myself. I'm betting that 98% of the visitors to Zion spend their time in the main canyon though. Well, that is where all of the development is at least.
South, just right outside of Zion's gates, is the town of Springdale. The town has many hotels, and other tourist trappings should you choose not to camp Don't expect cheap rates here though, you should just consider it as a resort town.
During the winter months, the main shuttles are not active, so visitors have to drive themselves around the Zion canyon. During the warmer seasons, driving into the canyon is prohibited, and visitors are to take the shuttles during operating hours. In a way, I like being able to drive myself around as I can dictate my schedule without ever having to wait on a shuttle. On the flipside though, the parking lots to the trailheads are pretty dang small so try to get there first if you don't want to be making alternate plans on the fly.
I only did a total of three hikes: the Riverside Walk (easy), Observation Point (didn't even make it), and Angels Landing (did make it). Had the conditions been drier, I would have done so many more hikes. One thing to note is that the Lower Emerald Pools hiking trail was closed off due to a recent rockslide; I actually really wanted a picture of the lower pools too...
Of all of the hikes in the park though, I would always recommend Angels Landing first. You've probably heard of this trail already, it is Zion's most famous trail. What really makes people excited about it is the chain-guided paths near the end. Hikers must go on narrow ridges to get the end with the chain being the only lifeline. Losing grip of the chain and falling means certain death. Spicy, right?
At the end of both Angels Landing, and Observation Point, hikers are rewarded with great views of the Zion Canyon. I personally like the view from Angels Landing better but, I've heard the opposite as well. Either way, both are enjoyable hikes, and they're long enough for you to make friends along the way. From the Angels Landing hike, I became Facebook friends with Nick, and I tried the same for David. Sorry, David, I looked up your name, and tried to find the profile picture you had described but, I couldn't find you...
Now let's talk photos. I didn't get many. The end. Okay, that's not exactly true however, none of the photos I took were really "portfolio worthy". I think that I had lost my chance after not pursuing images of the lower clouds on the first day. I kind of just thought that they would stick around since the weather was going to be the same. Just to clarify, I'm not talking about just plain-old fog, there were very defined clouds WITHIN the canyon, below the peaks. Those would have made some been super compelling images, but I do anything about it. So... let's not rag on me too much about that, eh?
Regardless of my failure of getting a compelling photo at Zion, I still enjoyed my time. I'm glad that we can enjoy these national parks at any time of the year, and I'm really grateful for that. I definitely think that I should come back to redeem myself someday. That's another trip for another time though. For now, I'm on my way to Death Valley National Park!